[SCR] Sparta 4 Bolster Log Trailer Smarty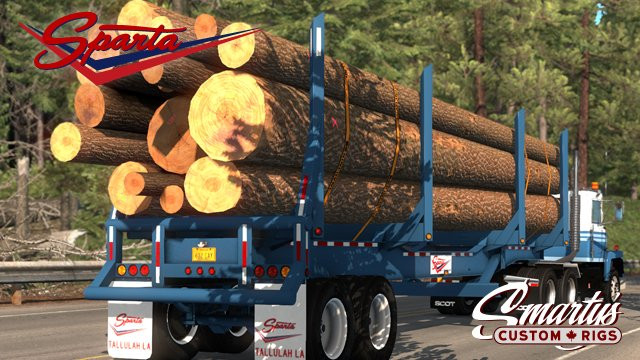 This is a fairly standard 4-bolster log trailer made by Sparta Manufacturing out of Tallulah, Louisiana.

Wheels:
This mod is compatible with my wheel pack. Make sure you have the Wheel Pack set with higher priority than the trailer(s) in the Mod Manager. This trailer uses the 11R24.5 Goodyear G314's on steel rims.

Credits:
SCS - Cargo models from ATS log trailer and normal map texture

Special Thanks:
50keda for his invaluable support while learning SCS Blender Tools, and also for developing SCS Blender Tools
mwl4 for developing ConverterPIX which drastically simplified the process of importing/adapting SCS' cargo models
hardtruckisthebest (Ivan) for making the awesome PTTM mod that inspired this one
Please, do not upload this elsewhere. My official distribution channels are Workshop, Trucky Mod Hub, and scr-rigs.com only. All brands and trademarks that appear in this mod are property of their respective owners.
Other Mods for American Truck Simulator
Smarty - All rights reserved. Any reupload or redistribution of this file without the author's prior written consent is forbidden.
This American Truck Simulator add-on was created by Smarty and shared in Trailers for American Truck Simulator.