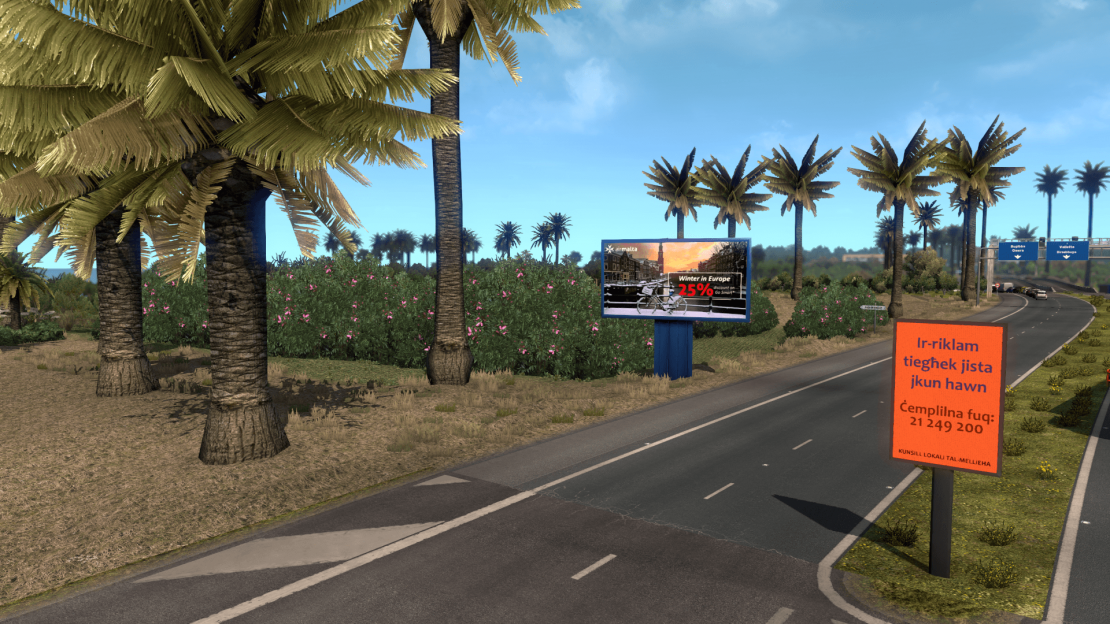 Viva Malta is a ProMods Addon which adds Malta to Euro Truck Simulator 2.

Features:
-left-hand traffic;
-custom signs and billboards;
-a ferry to Catania;
-custom companies like 'Malta Chocolate Factory';
-as of version 1.0 4 cities - Valetta, Bugibba, Qawra and Cirkewwa are included;
-road cracks;
-densely parked cars in built-up areas;
-surprises such as construction sites in areas of bad asphalt;
-custom trailer skins for the companies.

Tested on ETS2 v1.41.

Creators and helpers:
CaptainCat5444 (sole developer);
Olaf J (best beta tester 2020 as awarded by CaptainCat5444);
Wombat, Xoryx, Kaiser Kemastert, Gringo - Igor Neves, SXSA (beta testers).

Discord server of MedIsland Maps, also creating Road to the Balears: https://discord.gg/XUWPtPE

Happy Trucking!
Author
CaptainCat5444

Verified Creator

Follow
License
All Rights Reserved
Creation Date
2021-06-06
Current Version
1.0.2
Game Versions Supported
1.41
Last Update
2021-10-05
Downloads
840
Other Mods for Euro Truck Simulator 2
CaptainCat5444 - All rights reserved. Any reupload or redistribution of this file without the author's prior written consent is forbidden.
This Euro Truck Simulator 2 add-on was created by CaptainCat5444 and shared in Maps for Euro Truck Simulator 2.